The People's Repulic of China (PRC or China) is a large naton that occupies
most of Eastern Asia and its Pacific coast.
Ingame the PRC is in an allience with the Russian Federation, North Korea, Venezuela, Cuba, various Ultranationalist organizations,and Serbia. The Chinese assist with the invasion of the American West Coast, opperations in the Pacific, along with deploying troops into the Pakistani mountains.
Equiptment
Edit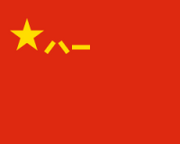 Small Arms
Edit
Handguns
Sub Machineguns
Shotguns
Carbines
Assault Rifles
Sniper Rifles
Light/ Heavy Machineguns
Rocket\Grenade Launchers
Type-69
PF-89
PF-98
HJ-8 Red Arrow
QW-2 Vanguard
QBL-06
QLZ-87
Other
Light Vehicles
Fast Attack Vehicle
BJ2020
Humvee EQ2050
NJ-2046
ZFB05
IFVs\APCs
Tanks
Self Propelled Artillary
SPAAGs
Attack Helicopters
Transport Helicopters
Fighter Jets
Transport Jets
Naval Craft
Jet Ski
Liaoning Aircraft Carrier
Type-051 Destroyer
Ad blocker interference detected!
Wikia is a free-to-use site that makes money from advertising. We have a modified experience for viewers using ad blockers

Wikia is not accessible if you've made further modifications. Remove the custom ad blocker rule(s) and the page will load as expected.