The MP7A1 is a German manufactured Sub MachineGun.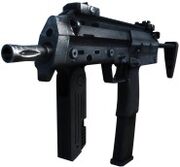 Modern Combat
Edit
Ingame the MP7 appears commonly being used by the forces of Germany, the EU, and the S.A.S., but it also appears in the hands of some American soldiers, along with some
Russian
Spetsnaz
. It features a 20 round magazine by default, with 40 rounds being its extended magazine. It features excellent bullet-penetration for a SMG, and has moderate recoil and damage which when combined with its extreamely high rate of fire(920 RPM) makes for an extreamely effective weapon at close to medium ranges.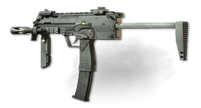 Ad blocker interference detected!
Wikia is a free-to-use site that makes money from advertising. We have a modified experience for viewers using ad blockers

Wikia is not accessible if you've made further modifications. Remove the custom ad blocker rule(s) and the page will load as expected.