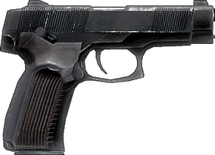 The MP-443 Grach is a semi-automatic handgun produced in the
Russian Federation
.
The MP-443 is shown as the sidearm of the Russian Military, along with some Venezuelan and Ultranationalist soldiers. The MP-443 features a 17+1 round mag capacity, and fairly low damage, but with decent penetration against body armor and even cover. The MP-443 features no firecap, and therefore can be used as almost fully automatic.
Ad blocker interference detected!
Wikia is a free-to-use site that makes money from advertising. We have a modified experience for viewers using ad blockers

Wikia is not accessible if you've made further modifications. Remove the custom ad blocker rule(s) and the page will load as expected.