The GIGN is an elite French military police force counter terrorism/tactical unit.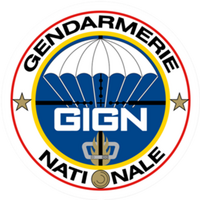 == Modern Combat ==
Ingame, the GIGN appear assisting the US Military in defending Paris from invading forces. The GIGN are shown being as being well trained, as well as well equiped.
Arms and Equiptment
Edit
Small Arms
Edit
Handguns
Pamas G1
Glock 17
P226
P228
Submachineguns
MP5
MP5K
UMP-9
UMP-45
P90TR
Shotguns
Carbines
Compact Carbines
Assault Rifles
Famas F1
G36
SG540
SG542
SG550
F2000
G3
Designated Marksman Rifles
Sniper Rifles
Anti-Materiel Sniper
Machine Guns
FN Minimi
FN Mag
AA-52
M2 Browning
Heavy Weapons
ERYX
ABL
FIM-92 Stinger
LLR 81mm Mortar
Grenades
OF 37
GR MA FUM-F1 56 Smoke
M18 Smoke
AN/M14 Incendiary
Ground Vehicles
Police Van
VBL
Land Rover
Helicopters
Ad blocker interference detected!
Wikia is a free-to-use site that makes money from advertising. We have a modified experience for viewers using ad blockers

Wikia is not accessible if you've made further modifications. Remove the custom ad blocker rule(s) and the page will load as expected.